---
L
---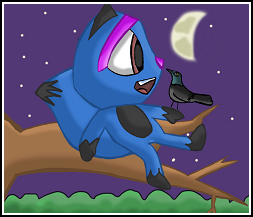 Laces
Species: Fox
Gender: Female
Age: ?
(Created by Hank)
Laces has a remarkably small attention span that always seems to bring trouble to herself and others. It's also rare that she ever truly understands a dirty joke.

Lea
Species: Lion
Gender: Female
Age: ?
(Created by DragonHealer)
Lea was cast out of her home due to her mean spirit and her love of material possessions. She has since traveled the world, seeking a fortune, though she never managed to find a place where she belonged. That is, until she met
Vera Wolf
and decided to settle down in the civilized lands of the Happy Tree Friends. Lea likes to use tools, even though accidents tend to take place whenever she uses them.

Lead
Species: Tabby Cat
Gender: Male
Age: ?
(Created by Sinclair11)
Lead Blaise was born in Casimer's Pass and was raised by the entire and only village in the canyon. When he was seventeen, his mother, Vincia, was kidnapped by an underground slave-trading group named Sven's Candy. Lead ventured out to find and free Vincia, but ended out getting captured himself. Lead was reunited with his mother in imprisonment but unfortunately she couldn't make it and passed away before Leads eyes. Lead and
Sinclair
, another prisoner, then formulated a crafty escape plan and managed to escape, but just before they made it all the way out, Lead lost his right foot to a bear trap. Lead, along with
Sinclair
, vowed to seek revenge for what Sven put them through.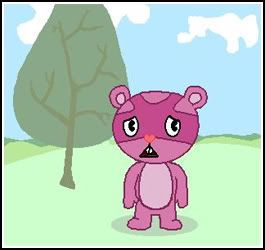 Lemmy
Species: Lemming
Gender: Male
Age: ?
(Created by Damien)
Lemmy is a lemming, though unlike his northern cousins, you don't have to worry about him instinctively jumping off of a cliff. Unfortunately for him, his sense of direction is worse than any instinctive urges, and he finds himself plummeting to his doom more often than not.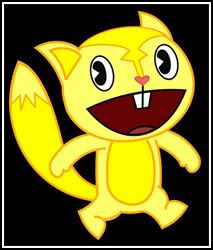 Lemon
Species: Jackal
Gender: Male
Age: 10
(Created by Cooky)
Lemon Dragos Citrus was born in Romania. In his spare time, he likes creating origami and climbing trees, or improving upon his fencing or ninjitsu skills, even though he's considered a master in those two fields. He's in love with
Indy
, a vampire bat, and he's typically a very friendly guy to be around, though he can be quick to become angry. His best friends are Kenny and Kass, though he doesn't like Mime, Cro-Marmot, Mole, Flippy or Petunia.

Lenny
Species: Leopard
Gender: Male
Age: ?
(Created by TheSheep.)
Lenny is a friendly leopard. He hates the taste of meat and gets sick upon the sight of blood, so he's a vegetarian. He used to live in the jungle, but moved to the land of the Happy Tree Friends because things in the jungle were too spooky for him. He's good friends with Flaky, and is practically arachnophobic. In his spare time, he likes to bake cakes and improve upon his cooking skills.

Leo
Species: Lion
Gender: Male
Age: 47
(Created by Kyubi-Chan)
Leo is the king of Jungleville. He's a healthy lion, aside from his broken leg, which will likely never be healed. This doesn't stop him from being king, however; he's the person who wrote all of the laws for Jungleville, though they aren't always perfect. His wife and daughter went missing a long time ago, and he gradually fell in love with his court wizard, Luna, though recent news indicates his daughter may very well be alive.

Leslie
Species: Otter
Gender: Female
Age: 25
(Created by HTF4ever)
Leslie is an otter who loves racing. She's been racing since she was sixteen and she's won two championships so far. She's also a lesbian, though she's open about her sexuality.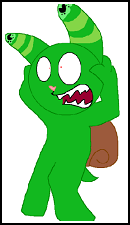 Leuco
Species: Garden Snail
Gender: Male
Age: ?
(Created by Rebecca W.)
Leuco happens to be infected with a parasite that is common in snails and it drives him insane. He's constantly muttering to himself, saying that he's "talking to him because he won't stop talking to me!" This also causis him to be a bit germaphobic.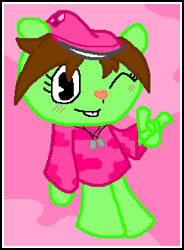 Lilly
Species: Bear
Gender: Female
Age: 17
(Created by Me love HTF)
Lilly is Flippy and Dusty's seventeen year old sister; she has two cousins, named Ray and Moofy. Lilly tends to act like a kid, and loves to go partying all night in various clubs; she's a very playful individual, though she can be rather annoying at times. She tends to get into fights with Jill and Giggles.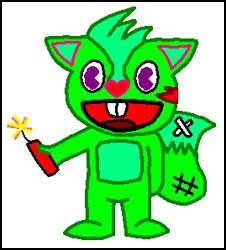 Lime
Species: Jackal
Gender: Male
Age: 8
(Created by Cooky)
Lime is the cousin of
Lemon
, though he lives far away from his cousin. He's a rather mischievous individual and he does what he can to embarrass
Lemon
, and has been known to try to embarrass
Indy
on occasion as well. He tries to act cute and innocent in order to get out of trouble, which doesn't always work; despite the fact that he acts like an idiot, he's actually a very smart individual.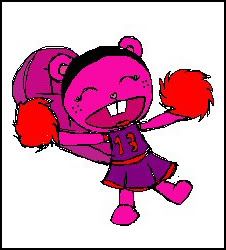 Liquorice
Species: Beaver
Gender: Female
Age: ?
(Created by Grazy-One)
Liquorice is a friendly, Finnish beaver with a special appetite. She likes to eat just about anything, including wood, plastic, and even scissors. She is arachnophobic, and in her spare time, she likes to watch movies, read comics and draw pictures. Despite her upbeat and happy personality, it's not hard to make her cry.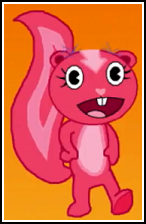 Lisa
Species: Skunk
Gender: Female
Age: 8
(Created by Flaky)
Lisa loves attention, whether it's positive or negative, and will sometimes even go to the extremes to get it. She is also very competitive and like to win at anything and everything. She can be quite the sore loser when she doesn't. Despite all that, she is a friendly girl over all and generally get's along with everybody though she does her best to not follow any fads that arise.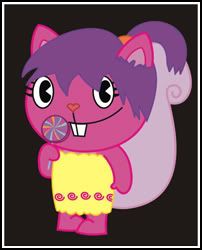 Lolly
Species: Cat
Gender: Female
Age: 16
(Created by kitty_cass788)
Lolly is a cat who just loves lollipops, ergo the reason for her name. She is Nutty's girlfriend, and even though he may care more about the candy she gives him, he does seem to like her. Despite this fact, she loves to flirt around with other boys, even the perverts, though Nutty doesn't really care because he just wants his candy, and for her to be happy. For the most part, Lolly is a kind and sweet girl, though she can be a bit rude or annoying at times.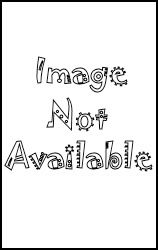 Looche
Species: Wolf-Bobcat Hybrid
Gender: Male
Age: 18
(Created by Capt. rin bilk)
Looche is a half-wolf and an only child in his family. His mother had a love affair with a bobcat and it was against the culture to marry somebody who isn't Native-American. His mother wanted to be with him, so she left Looche with her sister and ran away with her lover. Looche is frowned upon in his village due to the fact that he's not pure in blood; the only individual who is nice to him is the old medicine man and his step-sister, Hatke.

Loupy
Species: Wolf
Gender: Male
Age: ?
(Created by Canisolm)
Loupy is a relatively normal individual, or at least he is until he takes a whiff of blood. Upon doing such, his feral nature tends to kick in and he goes into a berserk rampage, often doing anything he can to hunt down and kill the creature who is bleeding. Unfortunately, he tends to maul down any innocent bystanders who just happen to be in his way.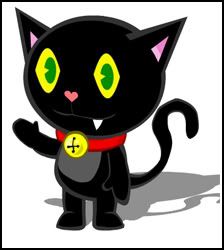 Lucky
Species: Cat
Gender: Male
Age: 11
(Created by Eye_changin)
Lucky is a cat who loves to gamble, and he tends to be quite lucky. He's a very superstitious person and tries to avoid things that could ruin his good luck. In his spare time, he loves to play with yarn and eat lots of pasta.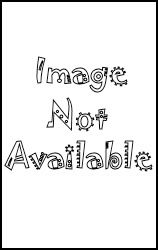 Lucky
Species: Cat
Gender: Female
Age: ?
(Created by EmilyDoOmSqueak)
Lucky is a black cat who wears a four-leaf clover tucked atop her left ear.
---
M
---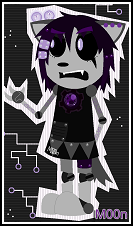 M00n
Species: Robot Wolf
Gender: Female
Age: ?
(Created by Amy LJ)
M00n was once a grey wolf with a love for magic and voodoo. She was always very friendly, helpful, polite, a generally happy person. Unfortunately, she was cursed with a demon at a very early age, which made her turn into a monster every full moon and kill anyone in sight. One day M00n mysteriously disappeared for weeks, and when she came back she was a robot. No one knows how or why. Her hobbies and personality are still the same but she has much difficulty getting accustomed to being a robot. Her monstrous side does not, however.

Magaf
Species: Mouse
Gender: Male
Age: ?
(Created by Gawrak)
Magaf is a magician and he's actually good at his job; he spends a lot of time practicing and he knows a ton of tricks. However, he has terrible stage fright and the only way he manages to perform is by closing his eyes and pretending he's somewhere else. This works, and he typically puts on a great show, though his tricks tend to be devastating for those who are unfortunate enough to be in the way of his blind magic.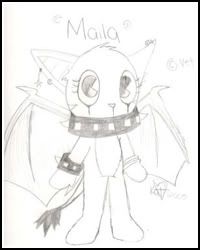 Maila
Species: Vampire Bat
Gender: Female
Age: ?
(Created by vetnernsweetie)
Maila used to be a normal fruit bat, but after being bitten by Glide, she became a vampire bat. However, neither of the two remember what happened, and when Maila woke up next to Glide, she fell deeply in love with him. She doesn't like to be treated like a monster, though she realizes that she is one of the damned.

Maple
Species: Fox
Gender: Female
Age: ?
(Created by Skamp)
Maple is merely a fox who lives in the land of the Happy Tree Friends. Not much is known about her, as she keeps a relatively low profile when she moves through society.

Marcie
Species: Squirrel
Gender: Female
Age: ?
(Created by Charcunga)
Marcie is Nutty's sister, though unlike her brother, she isn't addicted to candy. She gets along with most of the Happy Tree Friends, and she has a crush on Handy, though whether or not their relationship will flourish remains to be seen. She likes to collect pretty things in her spare time, though she prefers pretty purple things, as such is her favorite color.

Maria
Species: Fox
Gender: Female
Age: 14
(Created by IWG)
Maria is a fox who loves to make friends. She doesn't have low standards, but she typically doesn't care about how somebody looks or how popular they are. In her spare time, she loves to listen to music, and she has been known to covet the sweet, succulent taste of strawberries.

Marny
Species: Hare
Gender: Male
Age: ?
(Created by Marnodor)
Marny is a very reclusive individual who doesn't really like to encounter anything or anyone. He mostly likes to be alone, which is why the house that he lives in is actually outside of the town's borders. He is an inventor by nature and he spends most of his time inside of his hangar, in which he likes to create, build or invent various things. For example, he created a pair of light gray boots with a small anti gravity propulsion engine which allows him to fly, but he doesn't like to show it off too much. Due to his reclusive nature, Marny isn't very open towards most people and he usually only reveals his true side if he's talking to his friends, or if he's drunk out of his mind. He also tries to reserve his thoughts about some things in an attempt to avoid any unwanted reactions that might come about due to it. All in all, Marny is a nice individual, although his wild, albeit hidden nature of destruction can sometimes present itself, which could cause disasters for those who have offended him in the past.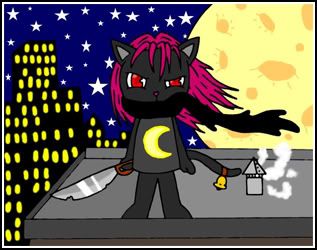 Maroon
Species: Cat
Gender: Male
Age: 24
(Created by FlyBoy)
Little is known about Maroon. It is believed that he was born into a family of four, and had a good life, though it is unknown what happened to take him down the path he had chosen. He prefers to spend most of his time alone, and tends to find most people annoying. He has the power to gather and shoot dark energy balls at will.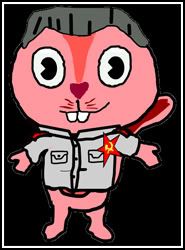 Marx
Species: Squirrel
Gender: Male
Age: ?
(Created by whymeohwhy?)
Hailing from Russia, Marx is a staunch communist, somewhat of a relic of the Cold War. He has a taste for collecting weaponry, and aspirations of conquering the world, which most of his friends view as a bit eccentric. Because, let's face it-- Marx really isn't much of a threat to anybody but himself. He earned a place in the Club of the Net Friends long ago, when he voluntarily dropped out of the Winter 2003-2004 Tournament to help
Shelly
run it. Ever since then, he's been a pivotal member.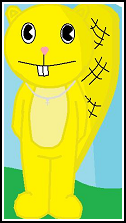 Matt
Species: Beaver
Gender: Male
Age: 11
(Created by Matt)
Matt is just an average beaver that loves nature and often goes exploring it. His deaths often involve getting his organs ripped out.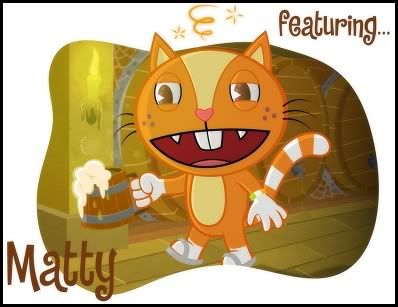 Matty
Species: Cat
Gender: Male
Age: ?
(Created by MattyH50)
Matty is a ginger house-cat. He always wears sandals and he typically carries his lucky charm wherever he goes. In his spare time, he enjoys playing video games and browsing the internet.

Max
Species: Fox
Gender: Male
Age: 24
(Created by Deadshot112)
Max is a free-spirited, but careless wolf. He is constantly listening to his mp3 player, and always has a pencil ready to jot down any creative ideas he gets.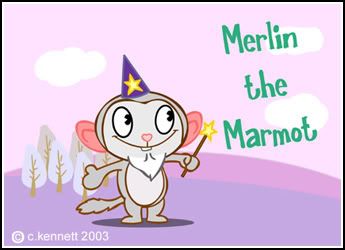 Merlin
Species: Marmot
Gender: Male
Age: ?
(Created by Crikey)
Merlin is a good natured individual who tries to use his magical prowess for the greater good. However, his abilities don't match his kindness, and he often gets in way over his head.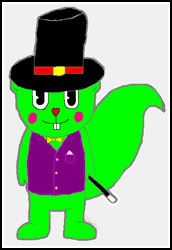 Mervin
Species: Squirrel
Gender: Male
Age: ?
(Created by Faraday)
Mervin is a magician, though he's not very good at his job. He thinks he's awesome, though his tricks usually fizzle out, if they don't injure or kill somebody first. His assistant,
Twiggy
, usually serves as his test subject, and she helps him out during his catastrophic performances.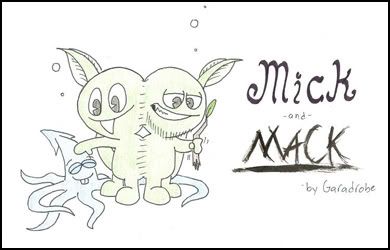 Mick & Mack
Species: Conjoined Sea Lampreys
Gender: Male
Age: ?
(Created by Garadrobe)
Mick is a rather nice individual and he wishes to be embraced by the other Happy Tree Friends, despite his "condition." Mack, on the other hand, hates the Happy Tree Friends and he doesn't want anything to do with them. This naturally results in tension between the two, since they can't do what they want without dragging along the other.

Migella
Species: Fox
Gender: Female
Age: 11
(Created by TMBG girl)
Migella was orphaned when she was very young, though she now lives a life of her own choosing, and on her own rules. She loves Pokémon and she sells lemonade in her spare time, at one dollar a cup, in order to be able to purchase its various products. She has a record seven hundred and forty-two cards, as well as thirty-five rare ones. When she grows up she wishes to become a bureaucrat, for reasons unknown to everybody else.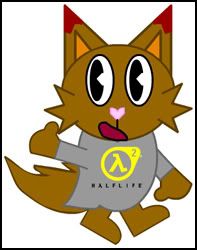 Mike
Species: Wolf
Gender: Male
Age: 12
(Created by Mikefox124)
Mike is a normal individual, or at least he was up until he gained the powers of a god. It is uncertain at this point how he obtained his powers, but he loves to use them in order to have fun and get out of trouble. He is in love with Anna, and in his spare time likes to play video games, especially those in the Half-Life series. He doesn't usually fight with people, though he gets angry at people if they act stupid around him.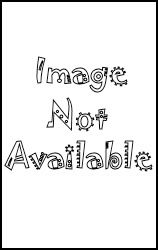 Mikey
Species: Bear
Gender: Male
Age: 15
(Created by Snake)
Mikey is a brown bear who loves excitement, particularly the thrill of riding a roller coaster. He always sleeps late into the afternoon and despite his thrill seeking nature, he's rather paranoid.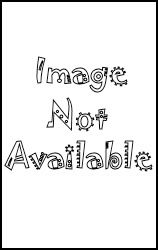 Milky
Species: Cow
Gender: Male
Age: ?
(Created by Deathwish)
Milky always seems to be confused. He blindly follows the commands of anyone who gives him food.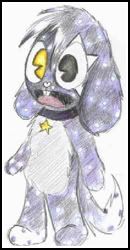 Milky Way
Species: Dog
Gender: Male
Age: ?
(Created by Fanart-Freak)
Milky Way is one of those weird individuals who seem to be just a bit crazy. He always seems to appear at random locations, which annoys people. He can easily change his emotions from a tremendously happy pup, to a stern and serious individual, or to just sad or any other emotion. He loves pie, and often goes to the Toontown world in order to rob Tom Pawz of his pie, which typically doesn't go too well. His best friends are Domino and Sundae, though he has many other friends as well. Despite the fact that he gets straight A's in school, he has shown few signs of actual intelligence.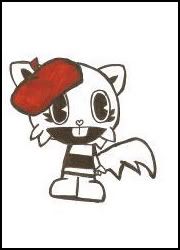 Mimi
Species: Cat
Gender: Female
Age: ?
(Created by Anvil)
Mimi is a small white kitten who was born in France. She has come to the land of the Happy Tree Friends in order to teach others about how to "look the look." She doesn't treat her friends with that much respect, and even though her job is to be a mime, she always seems to be on break and never seems to shut up.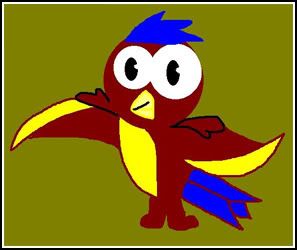 Mimic
Species: Parrot
Gender: Male
Age: ?
(Created by AngryDad2012)
Mimic is a parrot who loves to mimic people, though he tends to say the exact opposite of what the person actually says, which has been known to cause confusion and even catastrophe on certain occasions.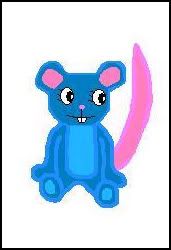 Mini
Species: Rat
Gender: Female
Age: ?
(Created by xXStephXx)
Mini is a rat who loves to cause trouble, though she's particularly fond of causing people to fight one another. Despite being a rat, she hates cheese; she also hates Giggles, and constantly tries to steal her bow. Her favorite food is bananas.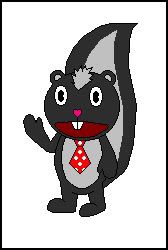 Monty
Species: Skunk
Gender: Male
Age: ?
(Created by Lord Doom)
Monty is a skunk who has a rather short attention span. Due to this, he is a rather unpredictable individual and has caused many problems in the land of the Happy Tree Friends. He's also rather dense, and forgets things that he should remember.

Monty
Species: Bear
Gender: Male
Age: 33
(Created by Mark)
Montgomery "Monty" R. Wyatt is the CEO of his own company, Wyatt Enterprises, and co-founder of the triumvirate. Almost from birth, Monty was Lauded as a mechanical prodigy. He graduated from the New Treeburg Institute of Technology with a degree in Advanced Electrical Engineering and Physics at age 16. Using his unparalleled knowledge of machinery, he built for himself a super-powered suit of armor full of all the latest technology that he secretly uses to defend the people from the forces of evil under the alias Horrid.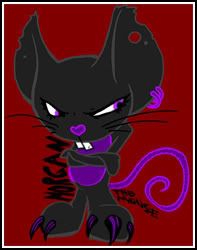 Morgan
Species: Mouse
Gender: Female
Age: ?
(Created by wazaloo)
Morgan is a depressed individual who longs to be killed. Seems like a simple task in the Happy Tree Friends universe, but alas, the Gods have smiled on her and despite her best efforts, she just isn't able to get killed, even when those around her are dropping like flies.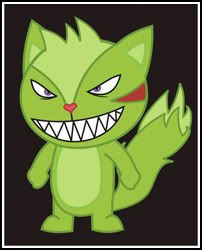 Mr. Lime
Species: Fox
Gender: Male
Age: ?
(Created by M1mE)
Mr. Lime is a mime who loves to talk, despite the fact that it breaks a mime's code of conduct. He hates educational material and isn't too fond of reading. In his spare time, he loves to practice his tricks, and occasionally goes hang-gliding, as he likes to take life to the extreme.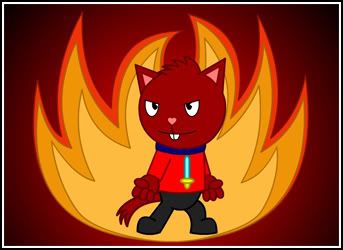 Mushra
Species: Puma
Gender: Male
Age: 17
(Created by BurningMushra)
Mushra is a superhero who was inspired by Splendid. One day, while flying through town, he fell in love with
Sis
.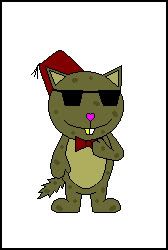 Mustafa
Species: Hyena
Gender: Male
Age: ?
(Created by Lord Doom)
Mustafa is a joker by trade; a prankster extraordinaire who will stop at nothing to get a laugh. However, what always begins as a childish prank typically ends in a blood bath when this devious hyena is involved.

Mystery
Species: Wolf
Gender: Female
Age: ?
(Created by Star)
Mystery is considered a feisty and cute individual; she's rather flirty, and she loves to exploit the way she looks in order to get the most out of people. She's an optimistic individual who always looks at the sunny side of life, though when it's a full moon out, her feral nature takes over and she can be quite dangerous.
---
N
---

Naiya
Species: Cat
Gender: Female
Age: ?
(Created by Deadshot112)
Naiya is a highly skilled warrior. Her feline instincts grant her superb agility, and she has the strength to effectively wield large weapons such as the two-handed sword she often carries. She never goes outside in the day time.

Nanabi
Species: Dog
Gender: Male
Age: ?
(Created by UnrealCanine)
Nanabi is a yellow dog with an extreme multiple personality disorder, hosting six or seven other dogs in him: Redbi, Grenbi, Blubi, Pinbi, Purbi and Orbi (Hachibi). Upon switching, he physically transforms into the other dogs, so his other personalities are more like completely different people. Redbi and Greenbi completely despise one another, for example, despite the fact that they all exist inside of Nanabi. All of these, except for Pinbi, have left a scar on him.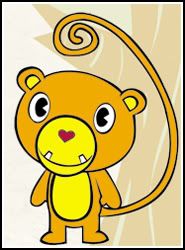 Nanners
Species: Monkey
Gender: Male
Age: ?
(Created by Nanners)
Nanners is a very curious monkey, though he certainly isn't a rip-off of Curious George, as there's no man in a yellow hat to keep him from getting in trouble. His curious nature tends to always get the best of him, and it often results in severe pain, or even death.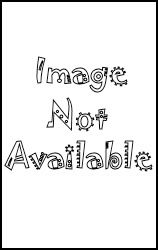 Naomi
Species: Cat
Gender: Female
Age: 14
(Created by Chaos Theory)
Naomi is a weapon smuggler who works with
Van
. The two of them appear to be sister and brother, but such may not actually be the case. She's quite skilled at her job, though she seems to prefer heavy weapons over other types of weaponry. Like
Van
, she doesn't care much for the police, though she also has a disdain for peace treaties, due to her love of combat.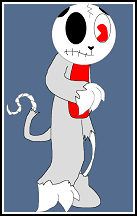 Necro
Species: Zombie Cat
Gender: Male
Age: Over 500
(Created by Rebecca W.)
Nerco was bitten by a zombie as a child, and slowly transformed into a zombie himself. He was rejected by his family and ridiculed by friends. In a fit of rage, he killed them all and ate the remains. Over the years he taught himself how to control his flesh and blood cravings, and became very clever in the process. He spends most of his time in a graveyard, the only place he believes that he is not a freak, and scares away all trespassers fearing that they would ridicule him just like his former family and friends did. He prays that one day he will be able to die again and move on from his ever lasting hell.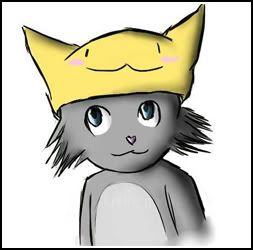 Neko
Species: Cat
Gender: Male
Age: 8
(Created by KREUZ_GOTHIKE)
Neko is a relatively young kitten, and is pretty immature. He's typically curious and will always check something out if he wishes to know more about it, even if it may potentially put him in harms way. He likes to play, and loves things that bring him entertainment, though he has a disdain for anything that is potentially boring.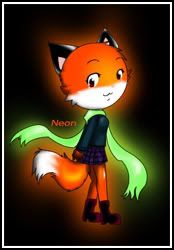 Neon
Species: Fox
Gender: Female
Age: ?
(Created by retpa)
Neon is a hyper-active and childish young fox who is considered to be a rather adorable critter. Despite the fact that she appears to be young, she's actually the oldest of the Noble-Gasses, though her actual age is undetermined. She has the ability to make the ruddy glow of neon signs, and she can fly with her muffler of fluorescent light. Nobody really knows of her origins, as she just appeared one day in the land of the Happy Tree Friends, and started to wander around. Nobody knows where she lives, either, though she's often seen staying in one of the abandoned back alleys.

Nerdy
Species: Cat
Gender: Male
Age: ?
(Created by HeaDHunter)
Nerdy loves technology and he tends to spend most of his time on his PC. His primary passion is with computer games, and if somebody disturbs him when he's playing one of them, he tends to go a bit berserk. There have been occasions where he loses track of reality, and thinks his life is nothing more than a computer game; the other Happy Tree Friends tend to avoid him as they think he's nothing more than a loon.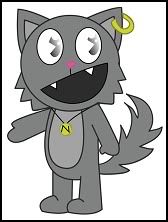 Nibbles
Species: Eurasian Wolf
Gender: Male
Age: ?
(Created by NibblesDW)
Nibbles is immature, oblivious to his surroundings, clumsy, has poor personal hygiene, and has the common sense of a cheese sandwich. He is in touch with his canine instincts and thus likes to chase cars and dig holes and he is not one to let injuries slow him down. For some reason, he also has an irrational fear of gerbils.

Nick
Species: Skunk
Gender: Male
Age: ?
(Created by Jitterz)
Nick is a skunk, and true enough to the cliché, he smells horrible. Due to this fact, he doesn't have any friends, and spends most of his time in solitude. Oddly enough, he enjoys playing with his tail.

Nicky
Species: Kangaroo
Gender: Male
Age: 15
(Created by Capt. rin bilk)
Nicky is a professional skateboarder and snowboarder; his role model is Darcy and Shaun White. He really hates anime-manga because he considers them creepy, and that includes the over-obsessive anime nerds who hound him for his belief.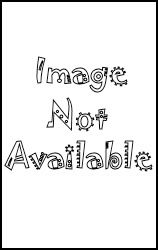 Nicotine
Species: Cat
Gender: Female
Age: 18
(Created by Capt. rin bilk)
Nicotine, or Nic as she prefers to be called, is a graffiti artist. She's very good at escaping the police, though it ultimately depends on where she's working at. Her left eye is lazy, though she wears a contact lens in order to mask that fact.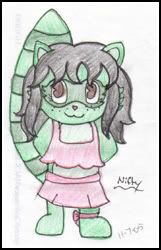 Nifty
Species: Raccoon
Gender: Female
Age: 20
(Created by Nifty)
Nifty was born in Moscow. She is currently unemployed, and spends most of her time with Lifty and Shifty, whom she is very good friends with.

Nighty
Species: Fox
Gender: Male
Age: 16
(Created by Caibel)
Nighty is a fox with black fur. When he was a baby, he was orphaned. A pretty criminal adopted him and he had begun to live a life of crime, but always tried his best to be a good person. When Nighty moved away, he was stuck with an unsure conscience; having already stolen so much, he wanted to redeem himself, but when he woke up the next day, he discovered that everybody he knew suddenly forgot about him, and didn't know who he was. He also developed strange powers, such as the ability to become transparent, like a ghost, as well as some telepathic and psychic abilities. The catch to his powers is that they constantly weaken, and only grow stronger if people think good things about him.

Nina
Species: Bat
Gender: Female
Age: ?
(Created by Capt. rin bilk)
Very few people know what type of person Nina is, and even less know about her past. However, she can speak fluent Latin, and she knows a bit of German. She seems to loathe the police and she considers them to be her enemies. She counts Julia, Ruth and Olivia amongst her friends.

Nixie
Species: Cat
Gender: Female
Age: ?
(Created by Grimor)
Nixie is a pirate and she spends most of her time on the high seas. She is in love with
Sporty
and they have two daughters, though she doesn't allow that to stop doing what she does. Her favorite activity as a pirate is boarding other ships, and she loves treasure, along with plenty of other things that pirates are typically known for.

Nocturnal
Species: Raccoon
Gender: Female
Age: 13
(Created by Mikefox124)
Nocturnal is a raccoon who was so interested in ninja, she decided to become one herself. She worked hard and practiced a lot in order to try to get to a higher rank; whenever she isn't practicing and studying, she usually plays video games. She does her best to make the classes more enjoyable and fun, even though she can be serious at times. She is personally fond of transformation techniques and she tries to expand upon her jitsu ability all the time. Despite her outgoing nature, she's usually shy around Haido, whom she has a crush on.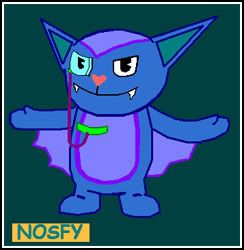 Nosfy
Species: Bat
Gender: Male
Age: ?
(Created by GARY)
Nosfy is a vampire bat, though he's actually quite social and he has impeccable manners. However, when he's hungry, all bets are off and he'll do anything he needs to do in order to appease his insatiable thirst.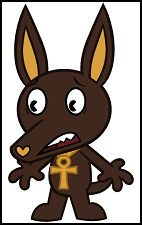 Nubi
Species: Jackal
Gender: Male
Age: ?
(Created by Veridiann)
Nubi is an awkward little Anubis who speaks with a stutter and brings chaos and bad luck wherever he goes. Like a Cursed Idol with legs, Nubi is an ill omen, and whenever he tries to live his daily life, things always go horribly wrong. While death is not the immediate result of his bad luck, this poor little jackal can never catch a break and his unluckiness often escalates over the course of an episode, getting worse and worse until somebody (usually himself) dies. Despite this, Nubi is a well-meaning character and just wants to help, but often finds that his assistance makes things worse. He has poor self-esteem because of this, and doesn't think highly of himself. He wears a golden ankh around his neck, which he cherishes, as he is seen polishing it often and becomes distraught if it is lost or stolen. His deaths are highly varied, but he is frequently skinned before dying, or is decapitated.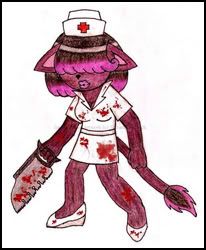 Nurse Deadly
Species: Cow
Gender: Female
Age: ?
(Created by FlyBoy)
Nurse Deadly, which isn't her real name, is an unknown and dangerous individual who roams the halls of an abandoned hospital. Nobody knows where she came from, or who she is, but rumors have said that she's an angry spirit who's bent on revenge. Others have said that she was created by the imagination of an insane individual who died in that hospital. Regardless of her origins, should you ever cross that hospital at night, you might just hear the sound of her bone scraping against the side of the hallways, and the scream of her recent "patients", that is, unless she decides to operate on you.

Nutkin
Species: Squirrel
Gender: Male
Age: ?
(Created by Tree Friend)
Nutkin, who is also known as "Squirrel Chuffin' Nutkin," is a crazy, nut-loving squirrel. He's usually an upstanding member of the community, but his love of throwing nuts, often at high speeds, tends to cause problems. He also doesn't like to be insulted about his crazy eye, and has been known to try to kill people if he's provoked. His bad temper ultimately causes most of his friends to become his enemies.

Nymph
Species: Spiritual Hare
Gender: Female
Age: ?
(Created by Yoshi-lord)
Nymph is what some would call a sprite, living in any natural part of the HTF world. Being a creature with a completely natural form, she has the power to control and manipulate all forms of nature. She has a strong sense of justice, and will fight to protect her natural homeland, no matter where it may be harmed. Her powers are limited, unfortunately, by the amount of water and sunlight she has at her disposal, as being linked to the planet requires her to use these resources. She has a pair of fairy-like wings which sprout from her back, due to what she is, which often causes her some problems. Even though she is a very compassionate individual, she instantly dislikes anybody who even has violated nature in one form or another, as she has a deep-running hatred of the industrial world and anything that spawns from it.